New Tires Purchase & Tire Installation Services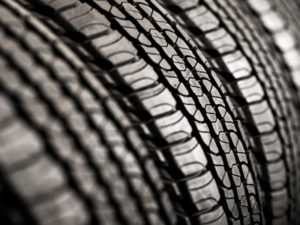 There is no way to tell exactly how long a tire lasts. The lifespan and mileage of new tires depends of a combination of factors: its design, the driver's habits, the climate, the road conditions and the care that's put into the tires.
A few milestones and tips:
1- Keep five years in mind
After five years or more in use, your tires should be thoroughly inspected at least once per year by a professional.
2- Ten years is a maximum
If the tires haven't been replaced 10 years after their date of manufacture, as a precaution, Michelin recommends replacing them with new tires. Even if they appear to be in usable condition and have not worn down to the tread wear indicator.
This applies to your spare tire as well.
3- Proper care expands a tire's lifespan
You can increase your tire's longevity by maintaining the correct air pressure, performing regular tire rotations and vehicle maintenance.
Everyone knows that tires play an important role in your vehicle's road-handling performance. But people forget that proper tire maintenance, along with monitoring tire pressure, tread depth, and performing regular tire rotations are all safety issues.
Consider these Car Care Council statistics:
1. Only 14% of drivers properly check their tire pressure
2. Nearly 70% don't know how to tell if their tires are bald
3. 45% wrongly believe that if taking a trip with a fully loaded vehicle, they are better off with tires that are slightly under inflated
To keep you from landing on the wrong side of these statistics, our technicians are committed to proper tire maintenance.
Remember, tire pressure should be checked at least once a month. Monitoring tread depth will help ensure you're receiving the proper level of traction and road-hugging performance as well as the ability to funnel water out from under the tire to reduce hydroplaning. Rotating your tires can even out wear rates based on the amount of weight that each tire carries on a vehicle.
Here are a few pointers to help keep you and your tires rolling along trouble-free. Rotate your tires regularly. In fact, your vehicle's manufacturer has specific recommendations for tire rotation.
Keep your tires properly inflated; They typically lose 1 psi (pound per square inch) each month. That adds up very quickly. And remember, temperature can have a major impact. A drop of 10°F can also cause a 1 psi loss in pressure. Low tire pressure, in turn, can result in reduced gas mileage and excessive heat build up leading to tire damage. Check for signs of excessive or uneven tire wear. Uneven wear on the inside or outside could be an indication that other problems are lurking, so make sure your tires are professionally inspected.
TIRE REPAIR IN ABBOTSFORD
It's a tough road out there, and your tires bear the brunt of those potholes, nails, glass, and anything else that can puncture a tire. Harry's Abbotsford AutoPro can fix your tire fast in Abbotsford and surrounding areas. Having a flat tire can be scary and frustrating. Flat tires can cause the rim of the wheel to rest on the tire tread or the ground, possibly triggering loss of control of the vehicle or irreversible damage to the tire.
Depending on the extent of the air leak, the tire might deflate slowly or quickly. Which could lead to the following problems:
– Failing of or damage to the valve stem
– Damage to the side walls of your tire
– Uneven tread wear
– Tire "blowouts" at high speed
Tire repairs on some tires, particularly those with a slow leak, can easily be fixed and re-inflated. Others, particularly those with leaks due to worn tread, should be replaced. Our mechanics at Harry's Abbotsford AutoPro can help you determine if the tire can be repaired or needs to be replaced.
Flat Tire Repair
– Examine your tires for uneven tire wear, which can easily be caused by:
– Too much or too little air pressure
– Complications with wheel positioning or tire balancing
– Problems with the suspension
– Needed tire rotation
These might suggest you need new tires soon. Driving with a flat tire, especially at high speeds, could cause a fatal accident. These issues have the capacity to trigger a blowout, causing a loss of control which may be very harmful.
– Splitting or protruding treads or sidewalls that might imply there is wear or weakness
– Foreign object that puncture through into the tire (nails, screws, glass)
– Tread tearing away from the body of the tire
Harry's Abbotsford AutoPro offers fast quality Flat Tire Repair in Abbotsford BC
If you locate any of these issues, trust Harry's Abbotsford Auto Pro for a speedy tire repair. We'll measure and adjust your air pressure, do a visual tire check, and have you back on the road in no time in Abbotsford BC. Call us today to set up your next flat tire repair. Harry's Abbotsford AutoPro is your number one provider of new tires and tire repair services in Abbotsford BC and surrounding areas.
Call Us Now At: 604-504-1501